Conferences
Meetings, Seminars, Classes, Award Banquets, Private Screenings, Product Launches
The Woodward can accommodate meetings, functions and events from a few people up to 65 in set-up styles including rounds, classroom, theater and U. The Woodward Max can accommodate conferences up to 35 people in U, rounds, rectangles or theater style. The Woodward Executive can accommodate conferences for up to 12 in rectangle or casual style. Meals for conference events can include working breakfast (homemade and fresh-from-the-oven scones for example, with fruit, chantilly, yogurts, granolas, coffees, teas, juice, etc), buffet lunch, oven-fresh afternoon snacks, etc. The Woodward conference rental includes a projection screen, TV/VCR/DVD, easels and flip charts with pens. Additonal A/V requests can be supplied by our on property A/V firm, T.A. Hamilton's Ambassador Artists Event Productions.

Day Conference Rental Pricing: The Woodward - $400 plus food
The Woodward Max - $300 plus food
The Woodward Executive - $200 plus food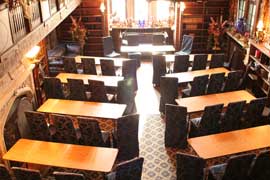 This conference set-up shows the front part of the Library at The Woodward in classroom style which would be full at 55 people. The back side of the Library with additional seating and tables is not visible in this photo.