Click on Any Inn for More Information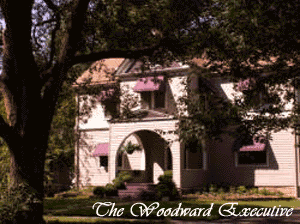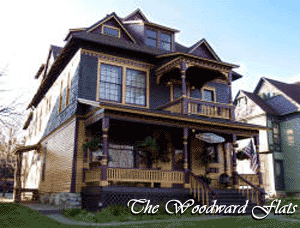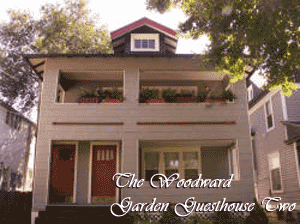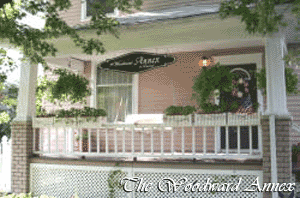 x

XXX
x

x

x

x
NEWS & COMMENTS
See What The Media & Our Guests
Think About Staying Here at
The Woodward Inns
x

x

x

x

x

x

x

x

x

x

x

x

x

xx
Featuring
* Eight Luxury Honeymoon Suites
* Group Lodging Capacity - 78 Guests
* Long-term/Short-term Executive Business Lodging
* Wedding Ceremony up to 160 Inside or 500 inside/outside
* Reception capacity 250 inside or 500 inside/outside
* Dinner capacity 72
* Conference capacity 54
Special Accommodations:
* The Woodward Registry - Polish Pottery - 2,000 pieces
* Caribbean Lap Pool Heated Year-Round
* Secured Wireless Internet
* King Beds, Jetted Tubs, Fireplace, Lofts
* Washer/Dryers For Guest Use
* Special Romance Packages
* Certified Massage Therapy
* Resident Entertainment Booking Services
x

x
The Woodward Inns on Fillmore in Topeka Kansas are comprised of Bed and Breakfast facilities, Three Guesthouses and several Executive apartment and studio style units making the Kansas Woodward Inns on Fillmore one of the larger offerings in the Topeka area. Accommodations are lovely and the spirit of the facilities "shines with warmth and hospitality", so says the Kansas Travel Guide. As Kansas Inns, B and B, Executive Homes and Guesthouses, these beautiful facilities represent an opportunity to enjoy history and pampered luxury for Romantic Get-a-ways, Business Meetings, Seminars, Conferences and Banquets of all types. Bridal and Baby Showers are a specialty as are the Incredible lavish Weddings and Wedding Receptions that take place at this Kansas favorite destination and luxurious party block. From intimate private Massage Treatments to exquisite Fine Dining, The Woodward Inns in Topeka Kansas brings it all together in grand style.
A favorite for the Business Traveler and Special Executive longer term accommodations, The Woodward Inns provide lodging that is above average and has no peer in the Topeka Kansas area. Hotels, Motels and other Kansas Inns can not provide the personal pampered experience that is a trademark of The Woodward Inns of Topeka.
We invite you to view the Homes, interior and exterior, here online, but to be quite honest, photography does not do The Woodward Inns of Topeka Kansas true justice for one single reason. It is simply impossible to capture the scale and grand style of The Woodward Inns in a small two dimensional photograph. You will have to come and visit, stay overnight with us and experience the stress relieving calm as it washes over you in waves as you are pampered and rejuvenated with the grace and charm of The Woodward Inns of Topeka Kansas.
The Woodward Inns are perfect for Anniversaries, Reunions, Family Get-Togethers, Special Occasions, Weddings, Receptions, Parties, Banquets, Awards Dinners, Seminars, Conferences, Workshops and any event where people gather for fellowship.
Special Packages keep the budget on track and Meeting Planners love the attention to detail that The Woodward affords them. Really, there is only One Choice and One Call to make, Please call Elizabeth Taylor right now >> 785-354-7111

COMING SOON TO THE WOODWARD INNS
* The Max Spaw - A Pet Hotel
* The Little Antique Stop at The Executive

x